June's Independent Bookshop Week has come and gone for this year. For the first time we were able to host some fab and fun author events and entertainments at the bookshop – see more below.
Next up – we're launching the AiB Book Blether group! Our first meeting will be on 7th September, at 7pm. See below for details. 
We look forward to welcoming you in.
18th June-25th June: Independent Bookshop Week
Fantastic Fun! David MacPhail started us off with drawings of Vikings and tales of Velda and the GINORMOUS frost giants. Molly Arbuthnott came in to sign copies of her new Oscar in Venice story ahead of her London launch and our young audience did some wonderful colouring in as Pauline Tait told her stories of The Fairy in the Kettle.
For the grown-ups, Mark Bridgeman enthralled us with his Trial by Jury evening, where he presented a case from his new book Perthshire's Pound of Flesh. Did our audience get the verdict right? Some did – and we had a very happy prize winner! But to say more would give it away, and we are hoping to welcome Mark back soon to see if others can work it out too.
We also welcomed BOOKMARK for a day to promote the six shortlisted titles for the 2022 Book of the Year Award and the October book festival.
What a way to celebrate IBW and the bookshop's (nearly) second birthday. A HUGE thank you to everyone who came along and made it such a good week!
30th July, 2pm, St Catharine's Hall, Blairgowrie: BOOKMARK festival ticket launch & meet the author event with Chris Whitaker
Chris will be talking about We Begin At The End – winner of the CWA Gold Dagger for Best Crime Novel of the Year. The story is set in small-town California and Montana, and is told by
the unforgettable narrator, Duchess: a troubled 13-year-old, who is trying to protect her younger brother and deal with a drink and drug-addled mother who has never recovered from the death of her own sister decades earlier. When the man responsible for that death is released from jail and returns to their town, events take a further turn for the worse. The book is available from the bookshop and will be available at the BOOKMARK event.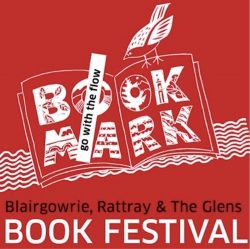 After refreshments (I fully recommend the cakes!), BOOKMARK Chair, Gail Wylie, will reveal the full BOOKMARK 2022 festival programme and open the Box Office for festival ticket sales.
Contact rhona.maclean@yahoo.co.uk for tickets (Launch event: £9, or £8 for members)
7th September , 7pm: Adventure into Books Book Blether, inaugural session at the bookshop
Responding to popular demand, we're delighted to announce the first meeting of the AiB Book Blether group.
The plan is to meet on the first Wednesday of each month, in the bookshop.
We'll nominate an AiB book of the month and at the Book Blether will do a short introduction of the book to set the scene and get the discussion flowing.
Our first book is A Town Called Solace by Mary Lawson. Read, enjoy and we'll take it from there.
At the Book Blether, e'd also love to hear about other books people are reading, so we can share recommendations and explore books we might not otherwise think of reading.
Just drop us a line or pop into the bookshop to let us know if you plan to come along (we can take a maximum of 15) – and if you've got a folding camping chair, you might want to bring it to be sure of a seat 🙂
8th-9th October:  BOOKMARK's 2022 Book Festival 'Another Time, Another Place', Blairgowrie Community Campus, PH10 6FH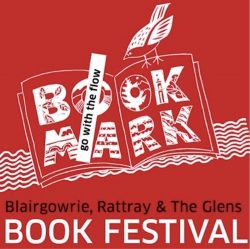 BOOKMARK are celebrating their tenth anniversary in style, starting on Saturday morning with Lin Anderson and Hania Allen and ending on Sunday afternoon with the composer Gareth Williams entertaining the audience with his newly composed Songs from the Last Page. Along the way, BOOKMARK will be hosting Rosemary Goring and Clare Hunter talking about Mary Queen of Scots; a short play about the Black Watch soldiers who went to France in World War One; two Scottish wildlife photographers; Lachlan Goudie presenting a history of Scottish Art; and novels set in the Cairngorms, London and different areas of Scotland. Something for everyone.
Gareth Williams will also be running a song-writing workshop in Blairgowrie Library during the morning of Saturday 8 October.
We are delighted that BOOKMARK have asked Adventure into Books to be their festival bookshop – we will have books galore both up the hill at the Community Centre, and of course, at 26 Wellmeadow!
Storytime 
Part of our Autumn plan is to start a regular storytime in the bookshop for 3-7 year olds (roughly). Please let us know if you would be interested in coming along and when would work best for you.