2020
I suspect there will be many novels, papers and articles written that will start simply with: '2020'. And it will be recognised instantly, for generations to come, as a harrowing year for many, many people.
But to us, it's the year we decided to open a bookshop in Blairgowrie – mainly because we live here, love reading and had nowhere nearby where we could browse, discuss and buy new books. And, despite everything that has happened, we remain unshaken in our belief that the world – and more importantly the people of Blairgowrie, Rattray and The Glens – needs books. As it says on our 'Front Page', we believe books inform our curiosity and feed our imaginations; and this year perhaps more than most, they also offer escape, solace and love.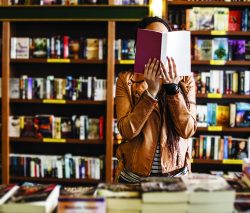 Our plans to open in the Spring went somewhat awry – Robert Burn's phrase 'the best laid schemes o' mice an' men gang aft agley' must be suffering severe overuse this year. However, if anything, that spirit of adventure now feels even more apt and needed as we gradually pick up our lives in a changed landscape where things feel a lot less certain.
And this new bookshop is not just our adventure. We want it to offer adventure to each and every reader, young and not so young: that sense of anticipation when you open a book; that feeling of being transported somewhere else; that chance to experience other things.
We hope to welcome many readers to Adventure into Books over the coming years – though it seems unlikely any of us will forget that Chapter One started in 2020.
Kate and Ralph