2021 – First birthday
We made it! We didn't get to celebrate our first birthday in July with a 'bubbles and berries' bash as planned (still in masks etc) but we did still mark the occasion, particularly as we had just reopened after our own brush with Covid.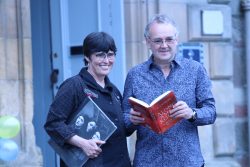 We've got pretty good at opening, closing and reopening the bookshop over the past year. We've missed the bookshop more with each closure, and smiled more with each reopening, and all largely to do with the people we meet every day in the bookshop – most with their own stories to share and all with a love of books. It's obvious we wouldn't have got to our first birthday without our customers, but we really have been bowled over by the enthusiasm and loyalty shown to us. THANK YOU!
With the BOOKMARK festival going ahead in October (it was fabulous!) and more fantastic books coming out before Christmas, we're enjoying a busy end to the year. Then, before we know it, we'll be into 2022, when we hope to launch some of our other bookish ideas – not least including a bash for our second birthday in July!
Kate and Ralph