January 2023
We opened our doors for the first time in July 2020 and with the tremendous support of our local community spent the next two years celebrating not failing!
In June 2022 we shifted gear…..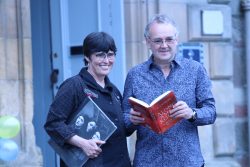 With the help of some of our local authors we kicked off the era of AiB events with a week of children's stories with David Macphail, Molly Arbuthnott and Pauline Tait – Vikings, creatures and fairies galore – and a Trial by Jury evening with Mark Bridgeman, taking us through a real case from the 1940s and asking us to decide on the verdict. Most of us got it wrong!
September saw the start of the AiB Book Blether (first Wednesday of each month at 7pm) – an open and informal book club with eclectic tastes, where the coffee is good (Ralph makes it), opinions flow and insights are gained.
We cloned ourselves in October to support the marvellous BOOKMARK festival. Busy, busy, but did also get to listen to some wonderful authors talking about their books and subjects. Can't wait to see who is coming in 2023 – be sure to put the dates in your diary: 7-8 October.
And then rounding out the year with an evening of ghost stories and local tales, courtesy of storyteller Lynette Downie's marvellous, mystifying (and at times downright scary) character of Meg the Midwife.
Phew!
So much fun! And none of it possible without our enthusiastic and loyal customers. THANK YOU!
Kate and Ralph